Main Photo by Nathan Dumlao on Unsplash
While we all want great photos of our wedding day to look back on, being photographed can feel daunting if it's not something that you're used to. Becoming more confident on camera is a process, but it can be incredibly rewarding, particularly as you begin to find that your new-found confidence extends to other areas of your life.
There's plenty of simple ways to increase your confidence in preparation for your wedding day. In this guide, we run through our top three tips.
Get some practise in
If you're camera shy, you probably don't get to see too many pictures of yourself, and you might feel a bit uneasy about what to expect from your wedding photos. You may not even know what you want them to look like, or feel unsure about what you need to do to get ones that you're happy with.
Of course, it's scary to go into a full-on photoshoot on your wedding day if it's not something that you've done before. So, ideally, you'll want to spend some time before the big day familiarising yourself with the process.
Perhaps you'll want to practise taking pictures of yourself on your phone, or have your partner take some for you. You could even sit in front of the mirror for a while and practise your wedding day poses or your 'soft smile'. As silly as it may feel, this is a great way to increase your confidence, and get used to being in 'photo mode' – after all, there's nothing worse than being taken off-guard when you're told to smile for the camera!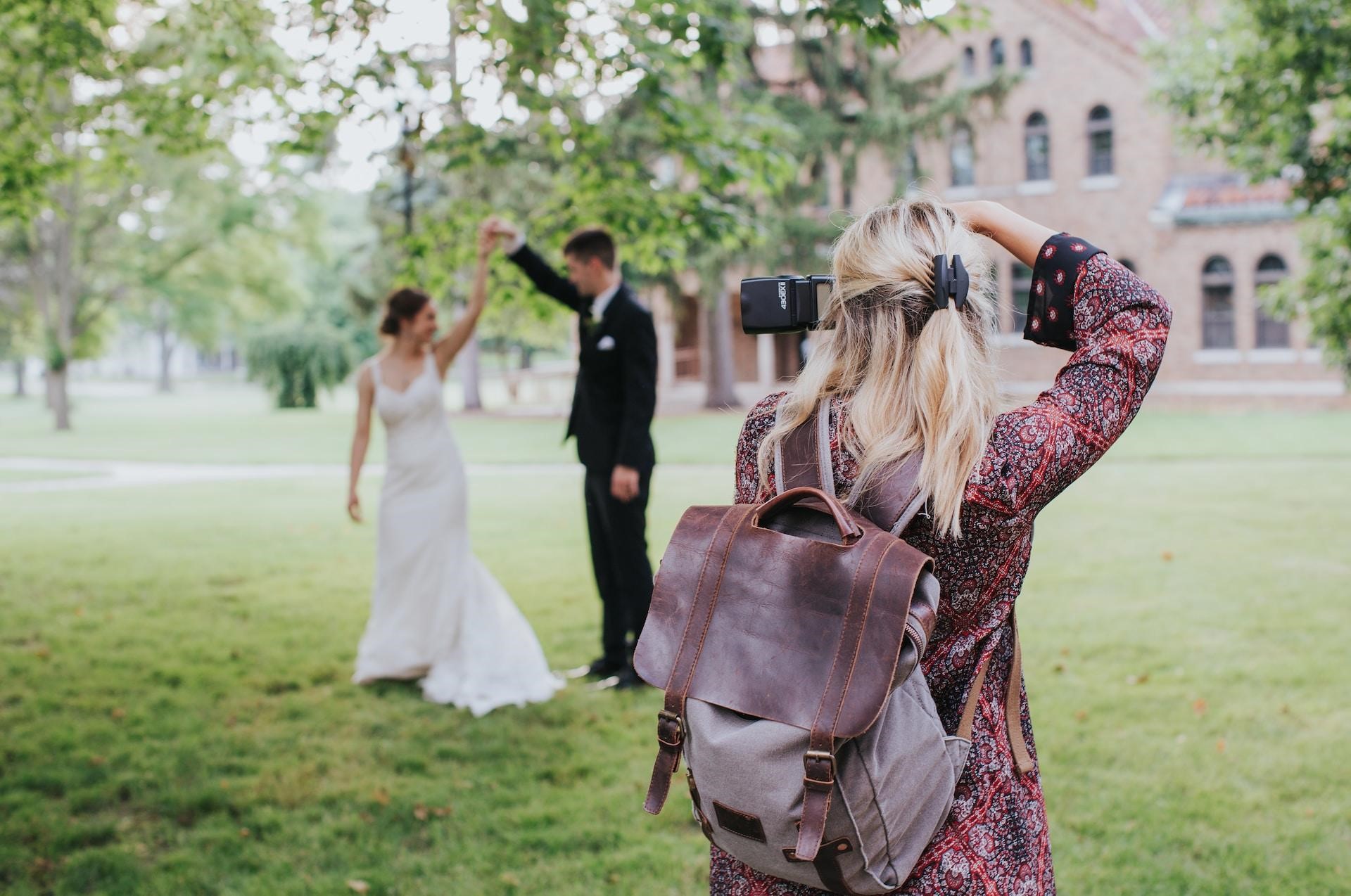 Photo by Mariah Krafft on Unsplash
Speak to your photographer
Your photographer doesn't expect you to have knowledge of what makes a great wedding photo. In fact, it's their job to make sure that your images are stunning and tell the story of your wedding day.
By having a chat with your photographer about some of the shots that they're planning to take, you may begin to feel more at ease about what to expect. Don't forget, your photographer is used to helping people to feel confident in front of the lens – it's the key ingredient of a great photo.
Your photographer may even be able to give you some tips of their own. Or, perhaps they'll be able to make their picture taking more subtle, so that you don't feel put on the spot when shots are taken.
Have fun with it
It's important to remember that you're not shooting for the front cover of a magazine – you're simply capturing your joy and love for one another on your wedding day. So, there really is no right or wrong way to do things, and you should never feel under pressure to get the perfect shot.
In fact, when it comes to wedding photos, anything goes, and even if you're faced with some sort of challenge or mishap, you'll probably find that it makes for a great photo. It's best to lean on your partner for support, and have fun with the process. You'll likely be surprised by just how perfect your wedding photos are when you get them back.